Real Men Read Recruitment
REAL MEN READ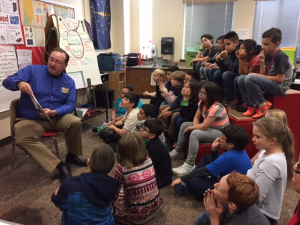 Who: Men who can donate 30 minutes per week to read to 1st-4th grade GCS students
What: This program shows the importance of reading in your career and in your leisure time.
When: Training luncheon October 17, 2018 at Grace Community Church. Readings occur during the weeks of October 30-November 30 (4 reading sessions).
Where: We will be reading in all seven GCS elementary schools this year.
Why: We need men to be present in the lives of our students. Your impact will last a lifetime!
Contact Sharon Sarber at ssarber@goshenschools.org or 574-533-8631, ext. 2048 to receive additional information or an invitation to the Training Luncheon.  Please provide your name, contact information, and school or classroom request in your email or voicemail response. Email all volunteer forms to Ms. Sarber's email address.