GCS Substitute Sign-up Meetings
Goshen Community Schools is now hiring substitute teachers and substitute paraprofessionals. GCS works with willSub to hire substitutes, and will host meetings at the GCS Administration Center (613 E. Purl St. Goshen) to assist potential substitutes with the process. The meetings will be held in the 2nd floor conference room on Tuesday, Oct. 9 at 2:00-4:00 p.m. or 5:00-7:00 p.m. and Wednesday, Oct. 10 at 9:00-11:00 a.m. or 1:00-3:00 p.m. (You only need to attend one session.)
To register online for this meeting, visit http://www.pcmiservices.com
Click on the District Orientation Meetings by state. Seating is limited, so please register early. Please start an application prior to attending a meeting at GCS. Go to http://www.pcmiservices.com and click on START to begin application.
What should you do next?
1. Register for meeting
2. Start Application (you will need an email address)
3. Complete all video trainings in application prior to meeting
4. Bring these items with you:
Your Personal Email Address and Application Password
High School Diploma or GED or Copy of "Official" College Transcripts or Teaching License
Banking Information for Direct Deposit
I9 verification (which can include a Passport or Drivers License and Social Security Card or Drivers License and Birth Certificate)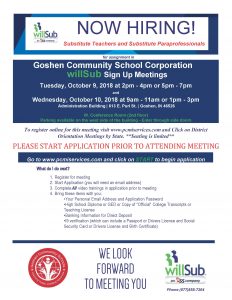 If you have questions, you may call willSub at (877) 855-7264. We look forward to meeting you!