GCS Foundation Fundraiser
The Goshen Community Schools Foundation is having a fundraiser to raise funds for grants to supplement our teachers' classrooms.  GCS elementary students are selling Major Saver Discount Cards now through May 14. Some of the businesses offering discounts are Mancino's, Buffalo Wild Wings, Maple City Market, Universal Tamal, Dairy Queen, El Camino Real, Pride's Express Car Wash, Goshen Brewing Company, and The Electric Brew.
The cards may be purchased 3 ways:
From a student for $15
On the website, https://www.majorsaver.com/cards/, for $15 plus $1 for processing and handling
Major Saver App that you can use to purchase and not have to keep track of the card.  The cost is $15 and $1 admin fee.
If you purchase from the website or the app you can still give a specific student credit.
More information on the Foundation may be found at https://goshenschoolsfoundation.org/.  This is the same organization that has the annual trivia night in the fall.
Front of Card: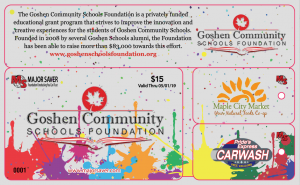 Back of Card: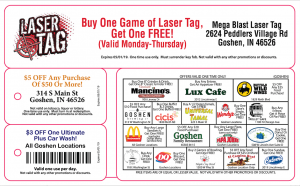 Thank you for your support of the GCS Foundation and the teachers who will be awarded grants from the proceeds of this fundraiser!