5/23/17 School Board Recognition
The following students and staff members were recognized by the school board on Monday, May 23rd:
George Madison was recognized for 47 years of service to GCS, as he prepares for retirement. Dr. Woodworth acknowledged Mr. Madison's dedicated service to the students and staff, and said "I can't imagine Goshen schools without George!"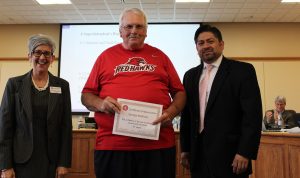 Dr. Woodworth introduced the Academic sub-committee members, who worked on the academic pathways for GCS students as part of the larger strategic planning process. She thanked them for their time and commitment to planning the educational pathways for students.
Committee members were: Adam Young, Alan Metcalfe, Alison Romero, Angela Piazza, Bill Born, Carl Weaver, Diane Woodworth, Jen Eberly, Jim Graves, Jim Kirkton, John Lichty, Joy St. Germain, Karen Blaha, Katrina Overton, Lori Line, Lori Shreiner, Marcia Yost, Megan Krug, Nina Keister, Robina Sommers, and Terry Hussey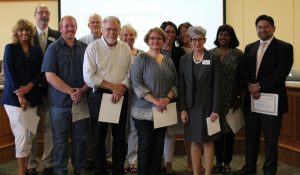 Dr. Woodworth introduced band director Tom Cox, who shared about the state champion winter percussion group (the students were actually outside practicing for the Memorial Day parade in Indianapolis). There are two winter percussion groups, movement and concert. The concert group was undefeated in all competitions all year and won the state championship.
Winter percussion students include: Alex Garcia, Angel Bazia, Angy Cruz, Arely Garcia, Arthur Peterson-Veatch, Arturo Escobedo, Ashley Sanchez, Ben Taubert, Bryan Garcia, Bryan Moreno, Carson Adkins, Cruz Garcia, Daniel Bowser, Daniel Guipe, Dylan Steury, Emanuel Contreras, Eve Miller, Fabian Perez, Hank Miller, Isaiah Kaufman, Javier Castillo, Joana Regelado, Honathon Garcia, Jose Montanez, Kevin Sanchez, Maddy Martinez, Matthew Schrag, Melissa Daniels, Nathan Garratt, Noe Palacios, Octavio Blacut, Oscar Lopez, Oscar Peterson-Veatch, Pablo Palacios, Paul Drescher, Sam Peeler, Samantha Linares, Sasha Rivera, Yaira Roman, and Zach Buckmaster.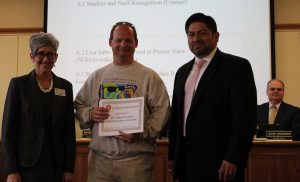 GMS students were named Rocket Science Winners after they created winning ice cream flavors in their New Tech classes.
Teachers Theresa Harley and Shannon Layne guided the students, as they experimented with flavors. Once they had their creations, they took the flavors to Rocket Science ice cream in Nappanee and had them frozen. If you go to the store this summer, you can try the GMS flavors!
Flavor: Boreo (oreo and banana)-Sonia Spencer, Briana Hererra, and Oliver Baxley
Flavor: Blue Lemon (blue raspberry and lemon)-Matt Cork, Josh Carpenter, Esdras Castro Valenzuela, and Andrea Diaz
Flavor: Cotton Candy-Alexis Herrera, Lauren Grant, and Brandon Diaz-Segovia
Flavor: Watermelon Explosion-Maurice Ochoa, Cristian Jimenez, and Jimena Lara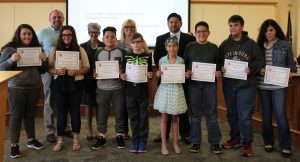 West Goshen Elementary was named a finalist for the NIET (National Institute for Excellence in Teaching) Founder's Award. There are only 6 finalists from across the nation and WG was one of them!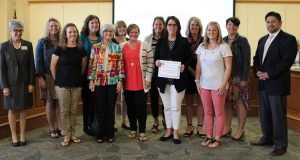 Thank-a-Teacher Campaign (by GCS Foundation)
Lisa Hetler and Bill Rieth, GCS foundation board members, recognized teachers who were honored by the Thank A Teacher campaign which is sponsored by the foundation. They stated that the Thank A Teacher campaign began because they wanted to recognize and support teachers in Goshen. "We enjoy highlighting the excellent teaching staff in Goshen."  They read some of the things that people had written about teachers when they made contributions in their names. This year the foundation received 26 letters and contributions in teachers' names, earning $1,100 for the foundation. This money will be used to sponsor teacher grant requests in the future.
The teachers who were honored this year include: GHS – Carl Weaver, Michael Wohlford, Nancy Shipley, Jody Weldy GMS – Brenton Fish, Geoffrey Schultz Chamberlain – Janelle Maust, Joann Elder Chandler – Sarah Miller, Laura Stieglitz, Eliza Stoltzfus, Robina Sommers Model – Josh Snyder, Erik Wolfe, Lisa Younghans, Julie Kilmer, Mark Goertz, Sarah Russell, Londa Bontrager, Julie Kilmer, Katy Gaskell Parkside – Katherine Griggs, Mary Short Prairie View – Jennifer King, Luke Miller West Goshen – Kim Rock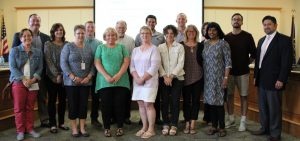 Dr. Jose Ortiz was also recognized for his service and dedication to GCS students and staff as a member of the school board. Dr. Ortiz has resigned his position, effective after the GHS graduation.