2017 Great Lakes Apple Crunch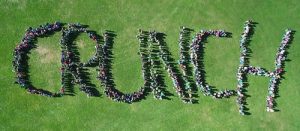 This is National School Lunch Week, so GCS will be celebrating our school cafeterias and our cafeteria staff all week.
GCS will also be participating in the 2017 Great Lakes Great Apple Crunch on Thursday, October 12! The food service staff is working with Martin's Supermarkets (who are donating locally grown apples) and Kercher's Apple Orchard, to secure enough apples for our students.
The students and staff will be a part of approximately one million participants in Minnesota, Wisconsin, Illinois, Michigan, Ohio and Indiana crunching on local apples this Thursday. The Great Lakes Great Apple Crunch includes K-12 schools, early child care settings, hospitals, college/universities, business campuses, and state agencies.
Join in! Celebrate National Farm to School Month by crunching into locally and regionally grown apples at NOON on Thursday, October 12. Everyone is welcome to Crunch! Last October 1,201,346 students, children, teachers, and good food supporters across the region crunched. Let's join forces and meet the ONE MILLION CRUNCH goal again this year! Visit the Apple Crunch Facebook page to get updates and see photos from last year's Crunch.